WOLVERINE VENTURE BATTLE AT GROVE CITY COLLEGE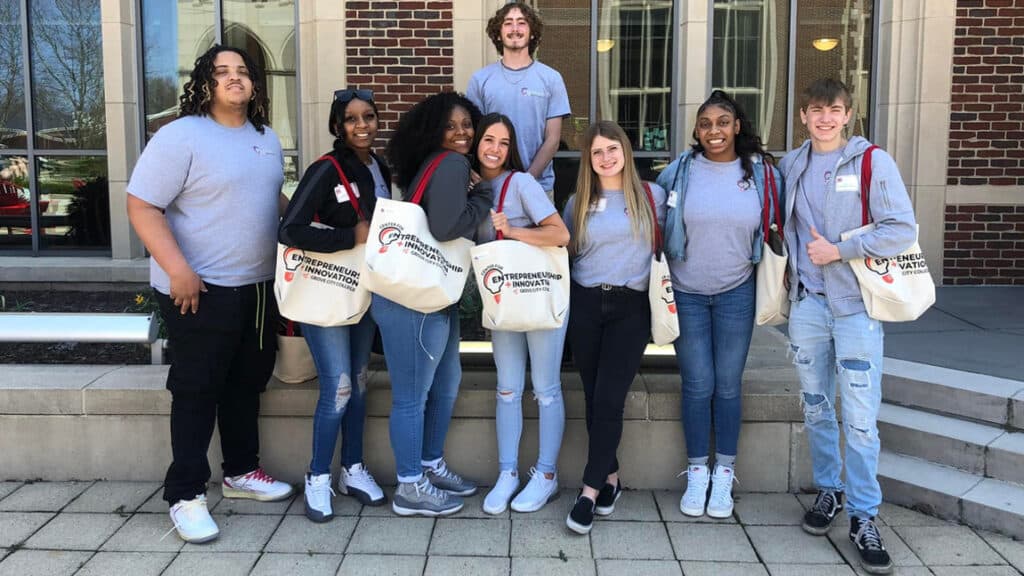 eA students participated in Grove City College's Wolverine Venture Battle as Junior Judges this past school year. We cannot thank Yvonne English, Executive Director and Entrepreneur in Residence, Center for Entrepreneurship and Innovation and Professor of Practice, Department of Entrepreneurship, enough for organizing such a full-filled day on campus! 
It was a spectacular day filled with lots of great information! Students toured the campus at Grove City College and got to see their Entrepreneurship Center. We ate lunch with students and professors from the Center of Entrepreneurship and Innovation. And, we had the opportunity to not only watch students present their business pitches and final product prototypes live in the third and final round of competition, but we also got to be junior judges and choose our favorite startup team. Each student's vote was worth $25.00 which was added on to the total investment awarded to each team
at the end of the competition by their panel of judges. We learned much in preparation for our own Demo Day- Student Startup Showcase- pitch contest!
According to the Center for Entrepreneurship and Innovation at Grove City College, "There is no one right way to start a venture. Therefore, the path to success in the real-world entails competing with teams who use many different approaches to achieve the same goal: funding. The Wolverine Venture Battle (WVB) simulates the real world by allowing teams to compete for prize money without the confines of a cumbersome administratively heavy business plan competition. The Wolverine Venture Battle is open to both social and commercial teams." 
For more information about the Center for Entrepreneurship and Innovation and the Wolverine Venture Battle at Grove City College, please visit their website here: https://gccentrepreneurship.com/the-center/. 
If you'd like more information on the eAcademy program, please reach out to Program Director, Katie Parr, at kparr@lindenpointe.com.