THE PRODUCT DESIGN PROCESS WITH YSU ROBOTICS LUNABOTICS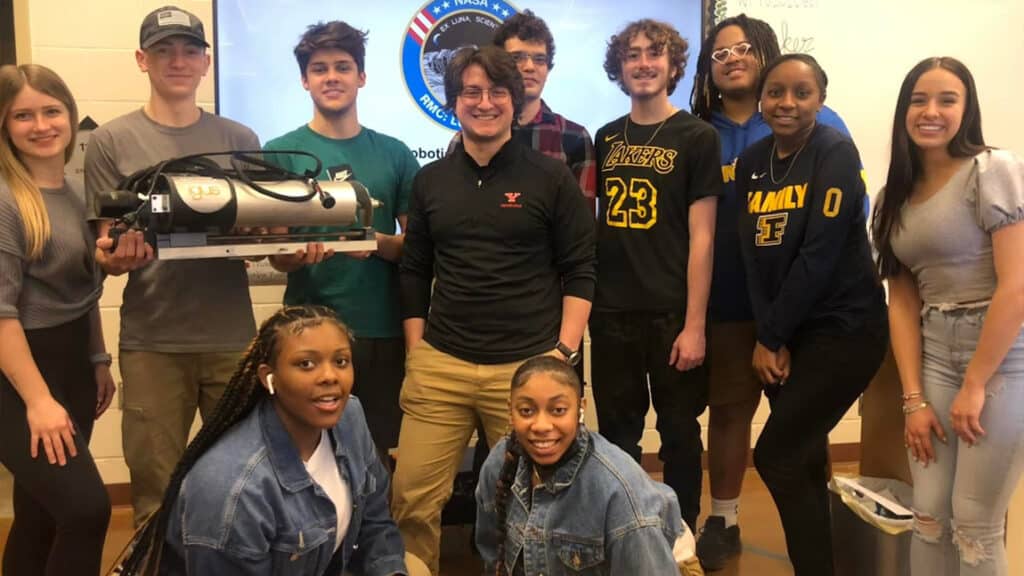 Members of the YSU Robotics Lunabotics team stopped by the eAcademy to discuss the design process with students. This month, eA students will start to design and build their prototypes for their business ventures. Students learned much about prototype iteration and overcoming engineering challenges during this visit. 
Jonah Montgomery (eA alumni) and Joshua Zabenpart, pictured on the cover with eA students, are part of a NASA competition team which challenges college students, particularly those with engineering disciplines, to design, build, and operate a robot capable of navigating lunar terrain. The bot needs to be able to dig, dump, and drive. The team receives points for various categories, such as autonomy, weight, and innovative design. Jonah and Joshua not only presented their bot to eA students, but also led a live demonstration! Students had an opportunity to explore the motor, gear box, 
and wheels up close- such an engineering feat!
The YSU Robotics Lunabotics team will be traveling to Florida over the summer and competing in person at the Kennedy Space Center. We wish them the absolute best of luck!
To keep up with their upcoming competition, please follow the Youngstown State University College of STEM Facebook Page here:  https://www.facebook.com/YSU.STEM/. 
If you'd like more information on the eAcademy program, please reach out to Program Director, Katie Parr, at kparr@lindenpointe.com.