LDC Inaugural Trunk or Treat Event Deemed a Success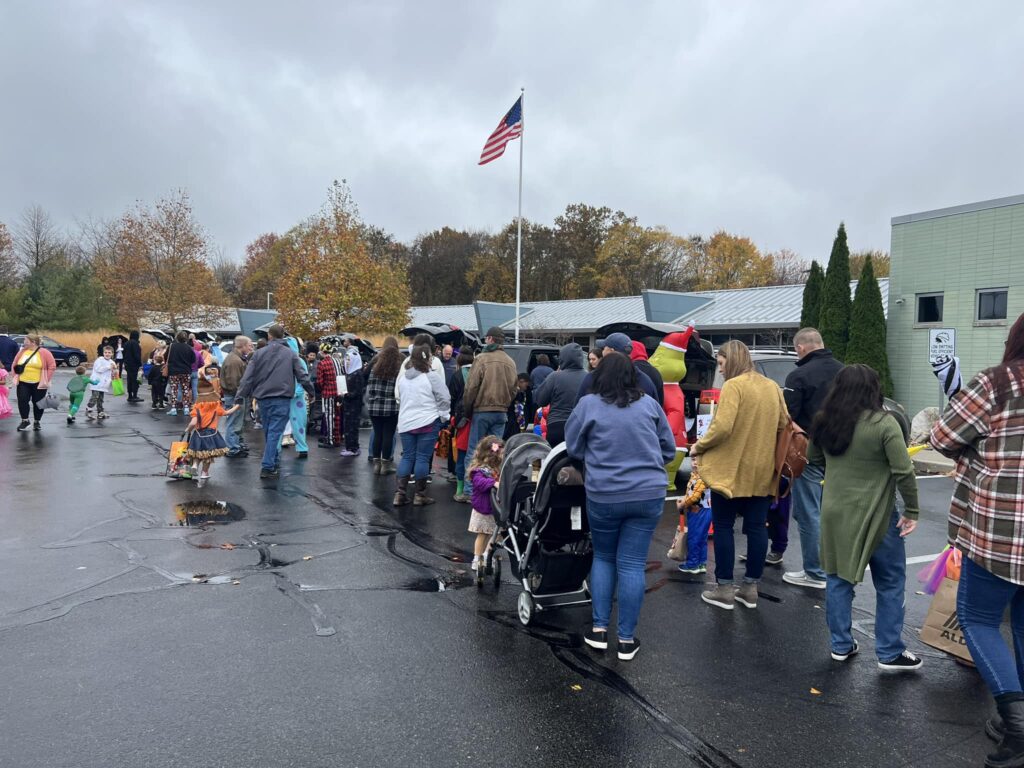 The community came out in numbers for this SPOOKtacular fall event on Saturday, October 28th!
 Over 245 children attended the LindenPointe Development Corporations (LDC) first Trunk or Treat event making the total in attendance over 500 for the afternoon. With such a great turnout, the LDC hopes to make it an annual event on the business innovation campus. The event took place in the eCenter Parking Lot with over a dozen local businesses, school groups, and organizations sponsoring trunks for trick-or-treating!
The LDC oversees three programs, all of which were represented at the Trunk or Treat event: the eCenter business incubator who hosted a Pirate-themed trunk with gold coins, pirate flags, and a treasure chest was run by Jewel Monington, LDC Office & Project Administrator; the eAcademy entrepreneurship program who recreated the T-Rex gate from the original Jurassic Park movie was run by eAcademy Program Director, Katie Parr; and the Pennsylvania Cybersecurity Program, who true to form, sponsored a jail cell trunk with an internet hacker insider was run by LDC Executive Director, Jeff Meier.
eAcademy students from Sharon (Batman Trunk), Sharpsville (Superhero Trunk), and Hickory (Christmas in October Trunk) also sponsored trunks for their high schools and passed out fliers to all of the elementary schools within those respective school districts.
Haitian Sensation brought their food truck and Halloween cookies from their newest business addition, Sweet Sensations. The eAcademy sold Monster Hand Kettle Korn and Cotton Candy Spider Webs as a mini fundraiser. Students also organized Mini-Pumpkin Tic-Tac-Toe and a Witches Hat Ring Toss game on the sidewalk for younger children attending the event. Dean Natural Vending sponsored a spooky craft where attendees could create a Halloween character to take home: Mummies, Vampires, Witches, Frankensteins, Black Cats, and more!
eAcademy Program Director, Katie Parr, who spearheaded the event said, "It was wonderful to see our businesses, school clubs, and organizations giving back to the community that supports them as well as seeing such a crowd on the LindenPointe Innovation Business Campus. A big thank you to all those who helped set up/ tear down, volunteered to run a children's activity, and hosted a trunk. We hope to see you back next year!"
Full List of Trunks who Participated this Year:
eCenter Business Incubator
Entrepreneurship Academy at LindenPointe
City of Hermitage Police Department
Hickory High School
Junior Achievement of Western PA
Penn State Shenango Cybersecurity & IT Programs
Penn State Women's Club Basketball
Pennsylvania Cybersecurity Center
Primary Health Network Charitable Foundation
Sharon High School
Sharpsville High School
Seniors Helping Seniors of the Shenango Valley
The Acceptance Project