Pennsylvania Cyber Security Center awarded $1.15 million grant from the Appalachian Regional Commission's POWER Initiative
HERMITAGE, Oct. 27, 2023 – The LindenPointe Development Corp. is proud to announce its Pennsylvania Cyber Security Center (PCC) has been chosen as one of 64 federal grant recipients awarded by the Appalachian Regional Commission (ARC) through its POWER (Partnerships for Opportunity and Workforce and Economic Revitalization) Initiative. The PCC is one of 19 Pennsylvania projects selected as part of a nearly $54 million package to support entrepreneurship, job creation, infrastructure development and more in the Appalachian region. This is the largest single POWER funding package to date since the initiative launched in 2015.
The $1.15 million in ARC grant funding will be used to support and expand the PCC program throughout Northwestern Pennsylvania. In partnership with Penn State University, the PCC offers cybersecurity training for high school, college and adult learners across the region. With this grant, the Center plans to build upon its pilot program, which featured seven area high schools and four universities, and expand to seven additional counties in the Appalachian region of Pennsylvania.
"The ARC grant funding will help to establish northwest Pennsylvania as a leader in one of our nation's mission critical technology industries," said Jeff Meier, the Executive Director of LindenPointe.
Meier, who previously served as the Chief Information Officer and Chief Information Security Officer for Fujitsu North America before returning home to the Hermitage-area, added, "With the growing talent gap in filling crucial cybersecurity roles, the goal of our program is to prepare members of our regional workforce to compete in and contribute to the nation's expanding digital economy." According to Statista, there were over 755,000 cyber security job openings in the United States as of February 2023, including over 24,000 positions in the state of Pennsylvania.
"We are extremely fortunate to have been able to draw on Jeff's unique talents and experience as a global CIO to make this program a reality," said Craig Columbus, the Chairman of the Linden Pointe Development Corporation. "I also want to recognize the City of Hermitage for having the vision to create a state-of-the-art facility that could house such an important initiative, and Dr. Jo Anne Carrick, Campus Director and Chief Academic Officer, Penn State Shenango and Jill Valentine, Director of Continuing Education and Workforce Development, Penn State Beaver for their outstanding leadership on the project, as well," Columbus added.
PCC is part of the LindenPointe Development Corp., a non profit created in 2011 that is dedicated to providing business incubation services, workforce training and regional economic development for northwest Pennsylvania and eastern Ohio. The LDC operates the eCenter at LindenPointe, a LEED-certified facility based in Hermitage, PA that houses the PCC.
To learn more about the ARC POWER Initiative, click here.
For more information or media inquiries, please contact Adrienne Sabo at adrienne@workwithclever.com or 330-501-9187.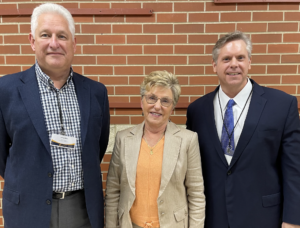 In the attached photo L-R:
Jeff Meier, Executive Director of LindenPointe,  Gayle Manchin, Federal Co-Chair, Appalachian Regional Commission and Craig Columbus, Chairman of the LindenPointe Development Corporation.