eAcademy Wins 'Economic Development Program of the Year' Award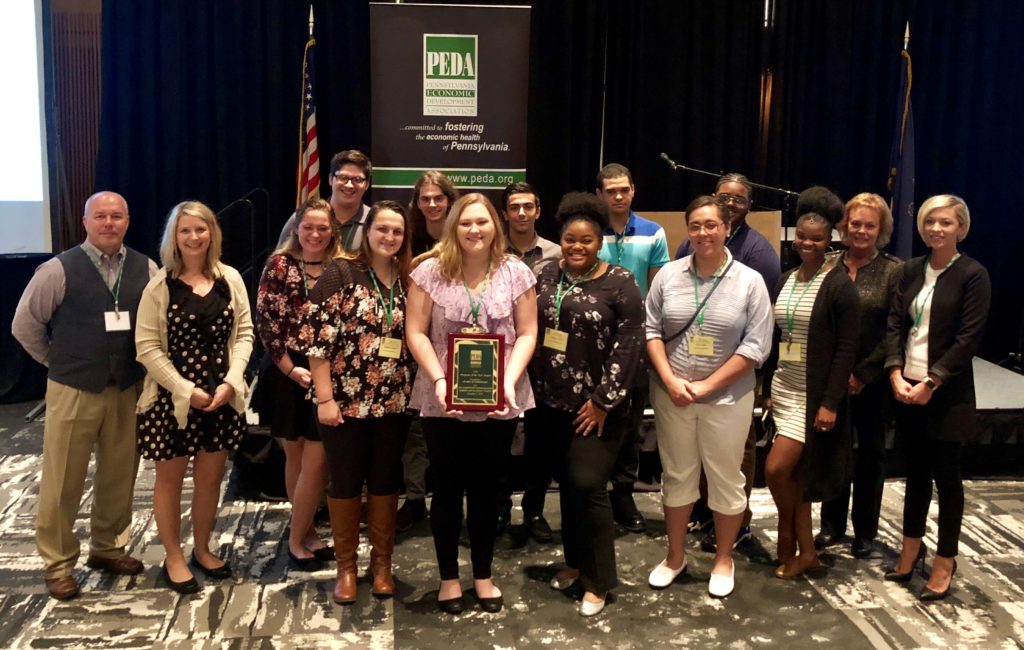 The LindenPointe Entrepreneurship Academy in Hermitage has been named one of Pennsylvania's top economic-development programs for its ongoing work in connecting talented area high-school students with business leaders and educational institutions.
The award, from the Pennsylvania Economic Development Association, recognized the eCenter and other recipients for their "efforts to move Pennsylvania in a positive economic direction" by "inventing new programs and strategies to respond to the rapidly changing business and community environments."
The recipients were recognized during the association's annual fall conference, and the association said the eCenter's unique achievements and position in the community highlight "the unique and innovative ways they are transforming communities."
The eAcademy is a unique educational program created through a collaborative partnership involving the eCenter @ LindenPointe and the City of Hermitage, and also 11 local school districts: Commodore Perry, Farrell, Greenville, Grove City Hickory, Kennedy Catholic, Mercer, Sharon, Sharpsville, Union, West Middlesex.
Launched in 2014, the eAcademy spurs economic development in the region by giving students from those schools a year-long and deeply immersive experience in which they work with experts to develop leadership and entrepreneurial skills optimized for today's fast-paced global economy.
In its first four years of operation, 100 students have graduated from the eAcademy, and most of those are now attending regional colleges, have launched their own businesses, or have joined local companies. Laney Kantner, a member of the eAcademy's class of 2019, said the program "is an experience that has given me the chance to meet new people and do new things that I normally would not have had the chance to do in the typical high-school setting."
Allison Sanford, also of the class of 2019, said, "The experience was definitely something new for me and I was able to get a better grasp on how the world works outside high school." The eAcademy program has been made possible through the generous support of Daffin's Candies, First Energy Foundation, First National Bank, Meszaros Family Charitable Foundation, Mercer County State Bank, and, and its annual eAcademy Demo Day is made possible by EKME Law, Gilbert's Risk Solutions, and Winner International.
The eCenter's Mission is to drive regional economic development through innovation, entrepreneurship, and next-generation career opportunities.